It's no secret that social media has taken over the internet and consumes a lot of people's lives. It has advanced and grown so much over the past few years that the majority of businesses and organizations have a Facebook page, a Twitter account, a blog and/or a LinkedIn profile. Many companies even implement these tools into their websites so that visitors can get more connected to the company and join in on the conversations.
The counseling profession has been affected greatly by these advances in technology. Social media has created both new issues to consider and benefits for counselors. They are now faced with the challenge of establishing effective boundaries with clients since social media has the ability to blur the line between private and public information. However, social media has opened many different doors for counselors; opportunities that may not have been available had social media not taken off.
Social media opens new doors for client communication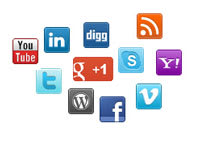 With all of the rapid changes that have taken place in social media over the past few years, the profession as a whole is still trying to answer questions on how to implement these tools into everyday activities and communications. The American Counseling Association's, a nonprofit organization focused on the advancement of the counseling profession, current code of ethics does not reflect the advances in social media and technology. David Kaplan, chief professional officer at ACA, says the code was last revised in 2005, which is before social media started affecting most professions. Many of the social media tools were primarily used by college students and teenagers at this time.
Kaplan says that a new and revised code of ethics will be out in 2014, and it will include various types of social media entries in it. Until then, questions are answered on a case-by-case basis. However, there are a few established pieces of advice for counselors and organizations that the ACA tries to promote:
Provide a written social media policy and consent form that clients must sign
Use privacy settings on social media accounts whenever possible
Check with state licensing board to stay current on rules and regulations
Have separate social media accounts for your professional and private life
If these basic rules are followed, most worst-case scenarios can be avoided. In the article "Legal and Ethical Issues Surrounding the Use of Social Media" for Counseling and Human Development, Kaplan and three other counseling professionals explain that the Health Insurance Portability and Accountability Act of 1996 needs to be considered when communicating with clients via social media. The main issue with this would be invasion of privacy or a break of confidentiality.
"It is absolutely ethical for counselors to use social media." ~ David Kaplan, chief professional officer at ACA
One way to avoid these issues with HIPAA is for counselors to make sure that social media communication does not have any session-related content or diagnosis information. Another way is to get written permission from the client to communicate informally via social media because HIPAA allows clients to authorize this type of out-of-office communication.
"It is absolutely ethical for counselors to use social media," Kaplan said. "But you must do what is in the client's best interest."
Kaplan helps explain in the article that it does not matter how advanced technology gets or how many more social media sites get launched because the measurement for ethical behavior should always remain the same. The needs of the client should come first, and it is up to the counselor to make sure that the method he or she uses serves to help the client in the best way possible. Some cases may call for more traditional methods of communication, and some cases may call for the use of technology. Regardless of the method, the client should always be protected.
"The question counselors should be asking themselves is not 'is it OK for me to use social media?' Kaplan said. "The question should be 'is this particular tool the best way to help this specific client with this specific need?'"
Social media opens new doors for networking with other counselors
Once counselors make sure that all of the legal bases are covered with their clients, it is time to consider mixing and mingling with other counseling professionals. Social media tools can be a great way to help facilitate these conversations and networking opportunities. Blogs, LinkedIn, webinars and RSS feeds are a few examples of tools professionals can use to get connected with one another.
Tamara Suttle, member of ACA and a licensed professional counselor who owns a private practice, maintains a blog to connect with other private practice professionals. She posts almost daily with information that sparks conversations between the counselors who follow her blog. She hosts a community gratitude journal on the blog every Friday where counselors can share the gifts and opportunities that have come their way from building a private practice. She also has guest posts from other professionals and offers private practice marketing advice. "As long as professionals are not writing about their personal lives, I definitely recommend for counselors to have a professional blog," Kaplan said. "It can be a great tool to provide information and advice."
With over 30 million users, LinkedIn can also be a great tool when it comes to connecting with other professionals. The site allows counselors to set up professional profiles and add other professionals to their network. It has the ability to work as an online rolodex.
"It [a blog] can be a great tool to provide information and advice." ~ David Kaplan, chief professional officer at ACA
Webinars and RSS feeds can be just as useful and effective because these tools help educate professionals on the latest trends and information in the field. Instead of wasting time and money to go to a particular conference or seminar, counselors can have this information right at their fingertips via the web.
Despite all of the possible legal battles that could arise from social media communication, these tools can still serve a valuable purpose for counseling professionals. Yes, counselors must be cautious and use their best judgment when communicating through these channels; however, social media can be a positive way for counselors to not only connect with their clients, but also with each other.