By Rick Docksai
Cancer treatment doesn't necessarily stop once the cancer is gone. The near-brush with death leaves survivors with bewildering emotions to sort through, along with worries that their disease might come back. Fortunately, they can count on counselors like Saundra Weller of the Inova Loudoun Hospital in Loudon, Virginia, to help them work through it all.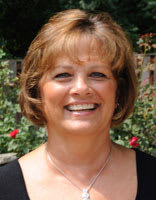 Saundra Weller, LCSW
A program coordinator and counselor, Weller works specifically with cancer patients. Whether they are newly diagnosed, coping with treatment, recovering and in remission, or even terminally ill, she is there to answer their questions and give them advice.
"There is so much information out there, and you really have to help them with all of it, help them digest it," Weller says.
A Difficult Journey
Weller's employer, Inova, runs five hospitals, including the Loudoun one where Weller's office is located. She frequently commutes, though, to a sixth Inova facility: Life With Cancer, a clinic where people living with cancer get a range of counseling and support services. Art therapy—in which patients paint or draw to express their thoughts and feelings—is one of its offerings, as are peer support groups, meditation groups, and yoga and aerobics classes.
"They're a population that impressed me with the strength that they had, the resilience that they had. I liked being with them on that journey," Weller says.
Weller herself works principally with women living with hereditary breast and ovarian cancers. Her projects include leading a support group, Women In Transition, for women who have completed treatment. The program recurs as a set series of group meetings twice a year, with different counselors running each series.
"We talk about what their new normal is, and we talk about life beyond the diagnosis. And we talk about activity. And the women go through it and normalize their whole lives," she says.
Weller graduated in 1994 from the University of Maryland's Master's-degree program in social work, and she could have gone into any of a number of specialized fields. She decided that working with cancer patients appealed to her the most.
"They're a population that impressed me with the strength that they had, the resilience that they had. I liked being with them on that journey," she says. "It's a very rewarding experience to be with them."
Yet as strong as those cancer survivors may be, many are also afraid and confused—understandably so. They want help to figure out what their next steps will be. Weller helps them with works day-to-day elements such as managing stress, nutrition, and healthy living.
"Women who live with breast cancer, for example, they've had the treatment and there's no evidence of the disease, but the woman is still very frightened: 'What if it recurs?'" she says. "So there are all of those things I work with them on, to help them take the best care of themselves."
Cancer Counseling in Demand
More people with cancer are not only surviving; they are living longer than was possible even 20 years ago. That's good news in anyone's book.
Many more new counselors will be necessary, Weller says
"Earlier on in my career, when you heard 'cancer,' you heard 'end of life.' Now, it's not so much that way," Weller says.
But it also means that counselors have more cancer survivors to care for. The workload could increase even further with Americans' life spans in general growing longer, and the populations of Americans over 65 continuing to get bigger. Weller notes that services are already strained.
"With all the baby boomers coming up—and cancer is generally a disease of the elderly—what is going to be problematic is who is going to take care of us. I say this as a baby boomer myself," she says. "Caregivers are already struggling."
Many more new counselors will be necessary, she says. But even more important, they will need to create new health-care infrastructures to help more patients, more effectively.
She finds it encouraging, however, that the National Association of Social Workers is very actively pressing for political reforms at the national level. Better still, it is linking with local social-work agencies and nonprofits to see how it can help them. In Weller's view, hope lies in social workers such as herself joining with social-justice lobbyists and health researchers to design, advocate for, and implement the systems that future patient populations will need.
"I think that, as a group, we can help identify the needs of the populations that we serve. And we can identify how the government and private sector can help us to build that infrastructure," she says.
Training Tomorrow's Counselors
Weller also teaches graduate and undergraduate classes in social work at George Mason University. Her repertoire has included introductory courses, as well as forum-style classes in which the students who are completing off-campus internships or co-ops would talk as a group about the work that they were doing and any issues that they were encountering.
"I think school is a time to broaden your horizons." ~ Saundra Weller
Guiding students on their off-campus work is especially important to Weller. Those actual professional settings, she says, are where they really learn how social work and counseling are done.
"The theoretical perspectives that you study in class are really helpful, and they guide you. But when you're in the real world, you run into situations where you need to adapt what you learned in the book to the real world," she says.
Finding Your Niche
Counseling is an incredibly diverse field. Besides cancer patients, one could alternatively choose to serve people with addictions, senior citizens, children, or domestic-violence survivors, among many other groups.
Weller urges her students to explore the full range of counseling niches and find the ones that most interest them. She'll encourage them to take the extra step of going out and meet one-on-one with directors of different social-work agencies and asking them about what they do. Students can also "shadow" doctors or counselors—accompany them for a day as they work—or try out the work themselves as volunteers.
Weller urges her students to explore the full range of counseling niches and find the ones that most interest them.
"I think school is a time to broaden your horizons," she says. "I tell students to seek out professionals in a variety of areas that they don't know much about. That's where you begin to develop your interests and your passions."